DUCKS
Ducks are easy to look after and happy providing thay have water, food and somewhere safe to sleep. They are generally lazy and after their initial dash to the water in the morning when they are let out they will sit on the bank of the pond all day doing nothing. To get them in at night just open the door and call and they will come rushing in especially if they think they are getting some food! Ducks of different breeds will mix together happily and you can keep more than one male together as long as you have enough females. We have lots of different breeds of ducks and depending on the time of year we have lots of different ages from 1 day to 1year old (most of our ducks will be up to 20 weeks old but sometimes we have some slightly older. We cannot list very breed that we have and sometimes we might list a breed that we haave sold out of so please don't be afraid to give us a ring and ask what we have in stock even if the breed you want is not listed we might have some. As a result of the large amount of breeds and ages we cannot produce a price list as stock varies so much and from day to day.

This page shows you a small selection of ducks. The ducks shown in the images are bred on the farm whilst the other ducks listed at the bottom of the page are a few of the breeds we stock throughout the year. There are many other breeds also available at different times. The ducks available for sale will be updated on the for sale page as often as possible. If there is somthing specific you require please ask as we may have it but not mentioned it on here.
POINT OF LAY DUCKS - EGG LAYERS
KHAKI CAMPBELLS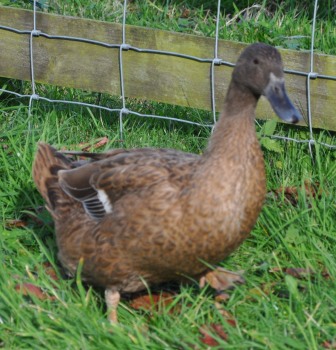 Khaki Campbells are the best known laying duck. They are bred to lay lots of eggs. The strain we keep will lay up to 320 eggs per year. The Khaki Campbells are medium size and as the name suggests khaki brown in colour, they can be nervous but ours are used to humans and dogs walking through them and they all come in to our sheds at night.
WHITE CAMPBELLS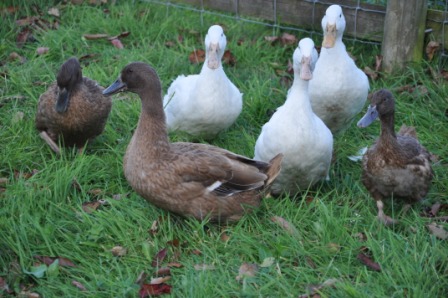 The White Campbells are a white version of the khaki campbell and lay as well(up to 320 eggs per year). They tend to be slightly larger in size and lay a slightly larger egg.
AYLESBURYS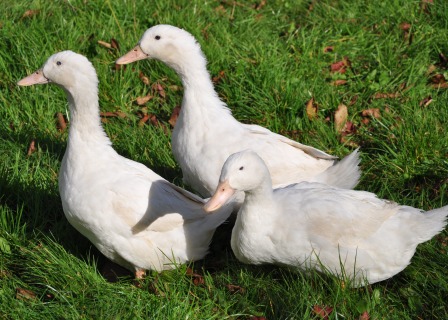 The normal aylesbury is not to be confused with the exhibition aylesbury shown in the heavy duck section below. The above aylesbury does not have the keel at the front and is a good dual purpose breed. It will lay fewer but larger eggs than the khaki campbell but is good for the table averaging around 5-6lb in weight dressed. It is the typical Jemmima Puddleduck of the duck world with its white body and yellow/pinkish beak. It is a greedy duck but easy to keep.
PURE BRED DUCKS
LIGHT DUCKS

Medium or light ducks are the workhorses of the domestic breeds bred to lay eggs eat less and work for their corn. Most will not fly they can survive with shallower splash ponds rather than deep swimming water making them more suitable with children .

SILVER APPLEYARD CRESTEDS

SAXONY CRESTEDS

BLUE/CHOCOLATE
AND BLACK CRESTEDS

WELSH HARLEQUINS

MALLARD AND KHAKI CRESTED

HARLEQUIN & WHITE CRESTEDS
HEAVY DUCKS

These are the biggest ducks of the duck world. Females weighing over 7lb in weight and males over 8lb. Normally slower and quieter in nature than the smaller and lighter breeds. These ducks are unable to fly due to their weight.
| AYLESBURYS | ROUENS | CAYUGAS |
| --- | --- | --- |
| SAXONYS | SILVER APPLEYARDS | SILVER APPLEYARD PEKINS |
| KHAKI PEKINS | WHITE GERMAN PEKINS | BLUE/BLACK SWEDISH |
| MALLARD PEKINS | BUTTERSCOTH PEKINS | BUFF PEKINS |
INDIAN RUNNERS
Indian Runners are an unusual breed of domestic duck. They stand erect like penguins and, rather than waddling, they run. The females usually lay about 150 to 200 eggs a year or more, depending whether they are from exhibition or utility strains. These ducks do not fly and only rarely form nests and incubate their own eggs. They run or walk, often dropping their eggs wherever they happen to be. The eggs are often green to white in colour, but these do vary. Indian Runners love foraging. They also like swimming in ponds and streams, but they are likely to be preoccupied in running around grassy meadows looking for worms, slugs, even catching flies. They appreciate open spaces but are happy in gardens from which they cannot fly and where they make much less noise than Call Ducks. Runners eat less in the way of grain and pellet supplement than big table ducks.

SILVER APPLEYARD INDIAN RUNNERS

BLACK INDIAN RUNNERS

FAWN & WHITE INDIAN RUNNERS

KHAKI INDIAN RUNNERS

WHITE INDIAN RUNNERS

CHOCOLATE INDIAN RUNNERS
CALL DUCKS & MINIATURE DUCKS
The call ducks and miniature ducks are a bantam breed of domesticated duck raised primarily for decoration or as pets. Call ducks are small and chubby cheeked and the females can be quite noisey if disturbed. The bantam ducks are bigger than the call ducks but around half the size of the light ducks. The call and miniature ducks are able to fly but this can be counteracted by clipping their wings. Both call ducks and miniature ducks come in a large variety of colours.
| MINIATURE APRICOT APPLEYARD CRESTEDS | MINIATURE KHAKI CRESTEDS | MINIATURE MALLARD CRESTEDS |
| --- | --- | --- |
| MINIATURE SILVER APPLEYARDS | WHITE CALLS | MALLARD CALLS |
| APRICOT CALLS | BLUE FAWN CALLS | |
MUSCOVIES
The muscovy is a large duck which is native to Mexico and Central and South America. The drake is a lot bigger than the female and will also grow to be a lot bigger than a normal heavy duck. Muscovies have a very bobbly red face, and extremely large claws which they use well. They are also very good fliers but this can stopped by clipping their wings. The muscovy duck is an extremely good broody and mother and will hatch 90 per cent of the time. Hatching a muscovy egg is different to a standard duck as it takes 35 days to hatch not the standard 28 days for a duck.
| | | |
| --- | --- | --- |
| RIPPLE MUSCOVIES | LAVENDER & WHITE MUSCOVIES | |
All the above breeds and colours are bred by ourselves on the farm and are availabe from day old to point of lay as females, pairs, trios etc. Many of these breeds are also available in different colours.
Listed below are a small variety of some of the different breeds of ducks available. These breeds are also available in many different colours.
| ABCOT RANGERS | BUFF ORPINGTONS | ROUEN CLAIRE | SWEDISH |
| --- | --- | --- | --- |
| MAGPIES | BALI | HOOKBILL | MUSCOVEYS |
Above is just a small selection of the ducks available. We have a large selection of ducks in stock and available throughout the year. Please bear in mind that there are hundreds of breeds of ducks and we cannot have them all in stock at the same time. Prices and availability vary throughout the year depending on age etc. We also have a lot of contacts for different breeds so if we have not got what you want in stock we can possibly source it from a specialist breeder if you should so wish. So please try us for any breed you require. Please contact us by telephone or email for further details.